As I write this I am simultaneously watching (skipping through) the coronation of Queen
Elizabeth II to get me in the mood for this post. After speaking with quite a few tourists who had already frequented most of the sites I was preparing to see, I learned that they all had one thing in common-theater. I pretty much heard all of the variations possible of "you should see a play before you leave." As a result, I made it a point to hop on the Tube to see what the commotion was about. Hip hip Hooray!
On my way to the Theater, I ran into a small food festival. It was only 4pm, and I could see the theater a few blocks down so I figured that I could spare a few minutes. I perused the
different vendors, which turned out to be as diverse as the London population. There was Korean food, African food, Italian food, and a host of other types of food. I opted for a small Greek dish of lamb, salad and fries. It turned out to be a very fitting choice  for the play that I decided to see.
Finally, I made it to the theater where  I had my pick from all of the plays since I was so early. The only one that seemed interesting was "Sunset at the Villa Thalia." As I read the summary for the play, I can't help, but to think I am such a diplomacy/legal nerd. The description is below:
"A time of modern-day Greek history; in 'Democracy is a work in progress' Arturo Valenzuela looks at democracy, and the economic consequences of neoliberalism. "
After I picked a play to watch (Go student discount), I had to kill 2 hours. I was really happy about that! I called my mom, who by the way, was still freaking out me traveling by
myself again. Following our call, I decided to walk around in the general area, where I discovered that that their was a huge pier with people bustling about on skateboards, on foot, and on bicycles. It was such a fascinating experience to just observe what seemed like a completely different world. Adjacent to the pier sat a  huge mall where I watched the most uncanny "fashion show" I had ever seen. In this particular show, the models would run from platform to platform when a team of people would dress the each model .
---
Perhaps, the most interesting part of these two hours was about 20 minutes before the play began. I sat a very large table reading a book, while a group  slowly accumulated. This group consisted of elderly women who caught up with each other and gossiped. "She's such a good wife and mother," and "how are your grandchildren?" were some of the statements I overheard. Everything sounded so posh in their British accents. It was also funny that while most of the group had not arrived together and did not plan on meeting, they all knew each other (they were surprised to see each other). Either the theater crowd is small or this was actually a coincidence. Either way, it was great entertainment before the show…
    Can you guess which couple is British and American? (Answer at the bottom of this post)
Sunset at the Villa Thalia Review
"April 1967. Charlotte and Theo have retreated to a small island in search of peace and inspiration. But when they meet a charismatic American couple at the port they are seduced into making choices with devastating consequences. A Greek holiday home becomes a symbol of a diplomatic powerplay where two couples — one British, one American — on the island of Skiathos as Greece trips into a military coup, and lets them exploit local uncertainty for personal gain." (cite/cite)
Overall, I would rate this play a 7 out of 10 because it expressed some very strong anti-American sentiments, and no one understood the meaning behind the way the play ended.
I wrote some of my thoughts down during the intermission and after the play (see below).
Americans depicted as manipulative, prude, demeaning and demanding
The play was set in the late 60s and throughout the 70s. At ont point the American male, a U.S. Gov worker discussed the Civil Rights Movement and how "we're trying to figure out what rights we will allow them." This reminded me of a great paper I read entitled (Insert)
The play also touched on gay rights
Are the actors real american ? Their accents are amazing.
Interesting to hear both the American and British accents and stereotypical depictions of both cultures in a British play.
Overall, this play was very funny
More information here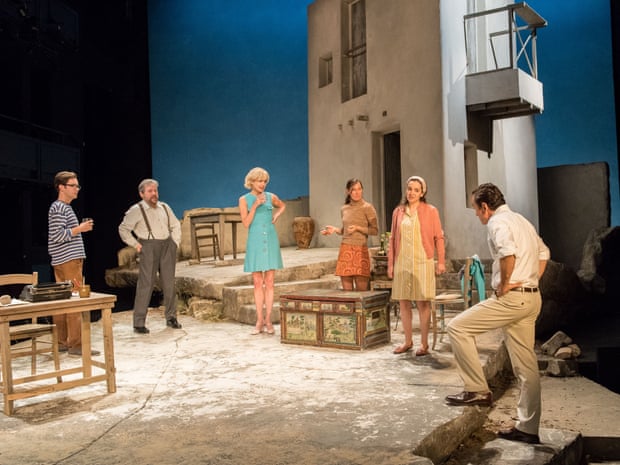 Did you guess the trivia question correctly? Answer: The lady in the orange dress and the man in the blue top are British. The other couple is American.